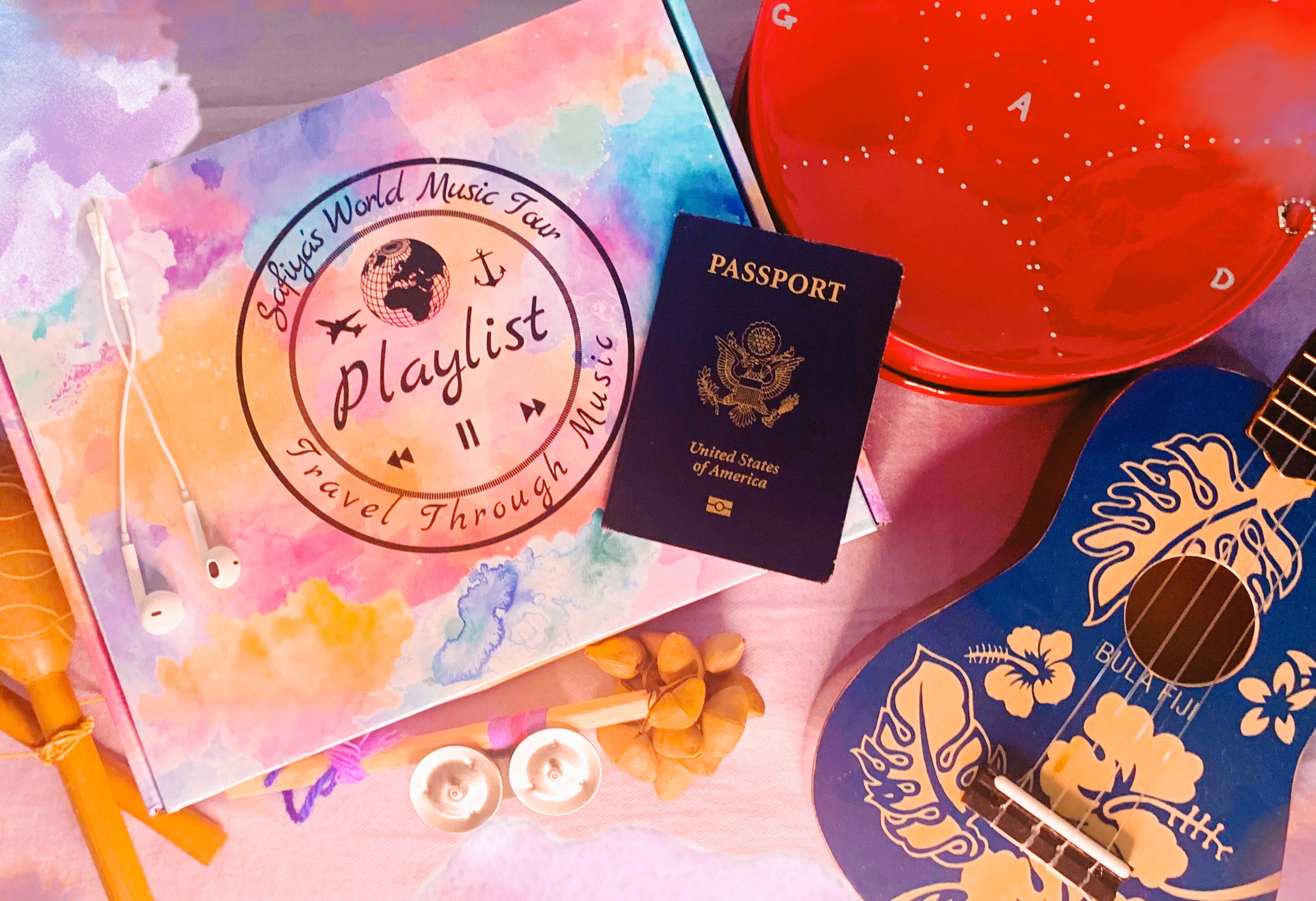 A GIFT FOR THE MUSIC LOVERS AND THE TRAVELERS!
If you miss traveling and live music, this is for you. Every other month, discover a new travel destination and musical experience delivered to your front door and enjoyed in the comfort of your own home. Join a community of music lovers and travelers. Each purchase gives 10% of the proceeds back to the featured artist and supports small businesses and artisans. We give back to Travel & Live Entertainment businesses that are affected by COVID.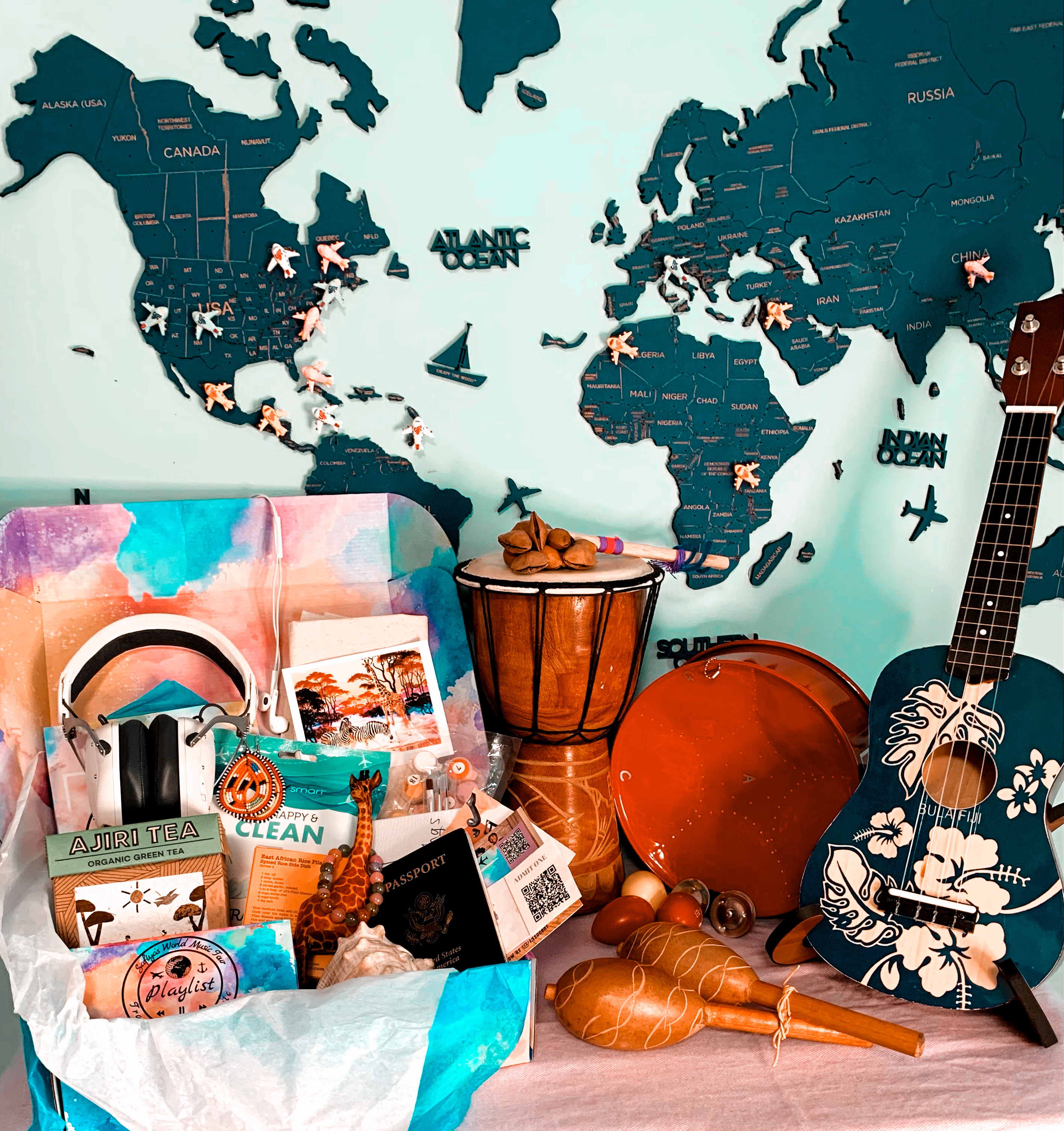 1. Choose your Journey
Give the gift of travel and music this holiday season with our Suitcase Box!
CURRENTLY TAKING ORDERS FOR OUR
Nepal BOX NOW UNTIL Dec 1st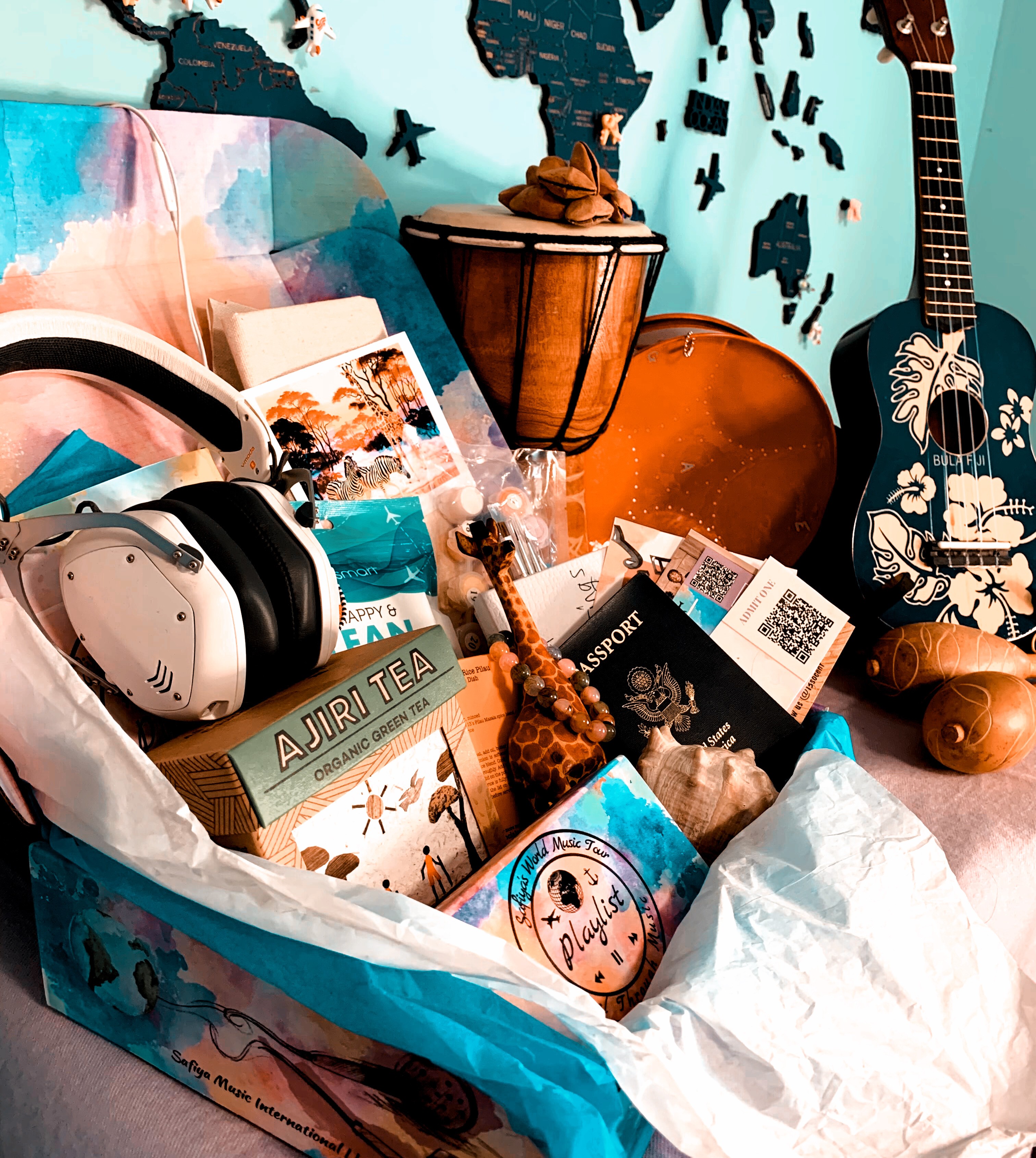 2. Choose Your Travel Length
We have moved to quarterly subscriptions!
The next shipment will take place Dec 17th-20th
If you choose a commitment term, you are locked into that subscription for those terms.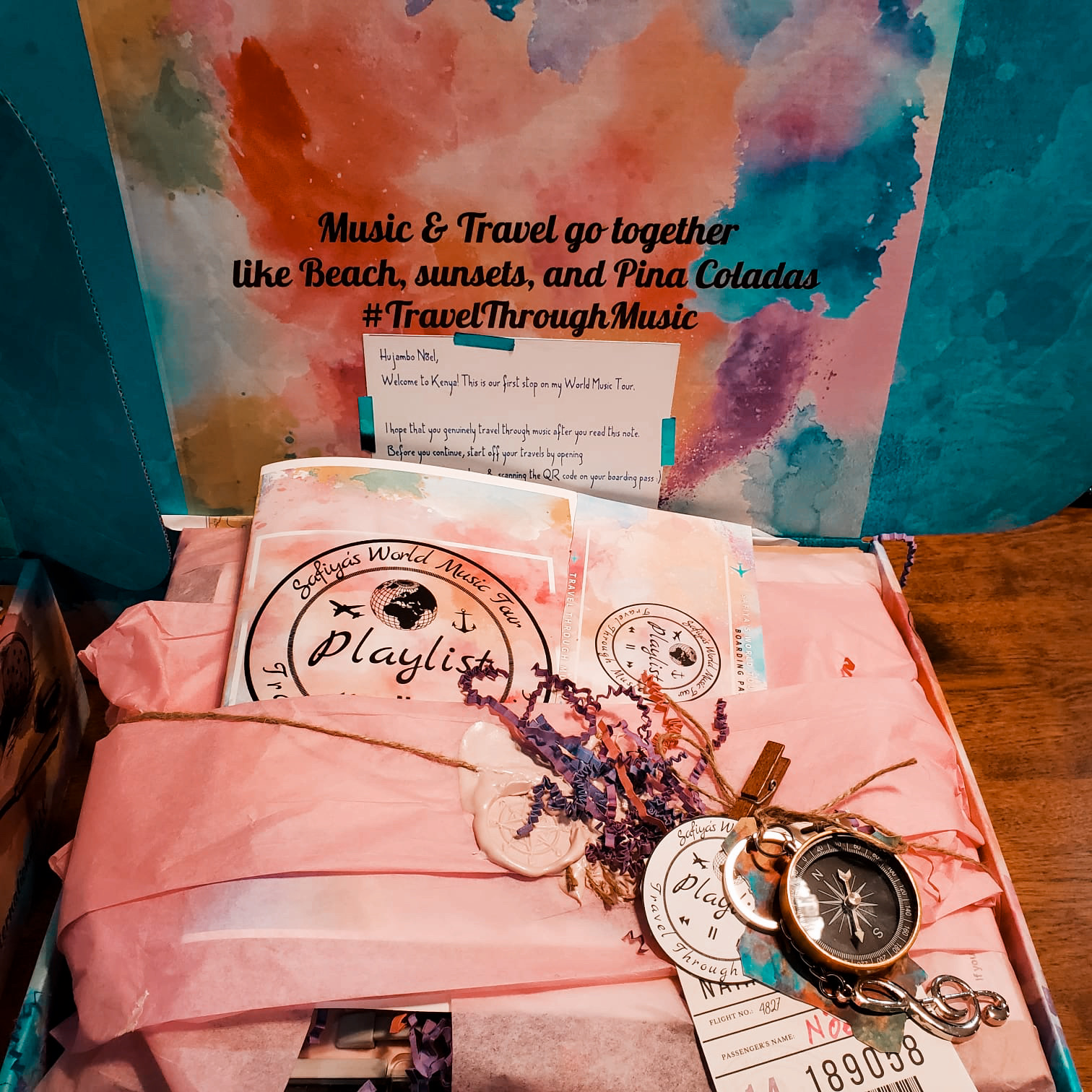 3. Enjoy Traveling Through Music
All suitcase boxes are
valued above $250-$300
FREE SHIPPING 
PLUS RECEIVE AN INTIMATE VIRTUAL EXPERIENCE WITH THE FEATURED ARTIST!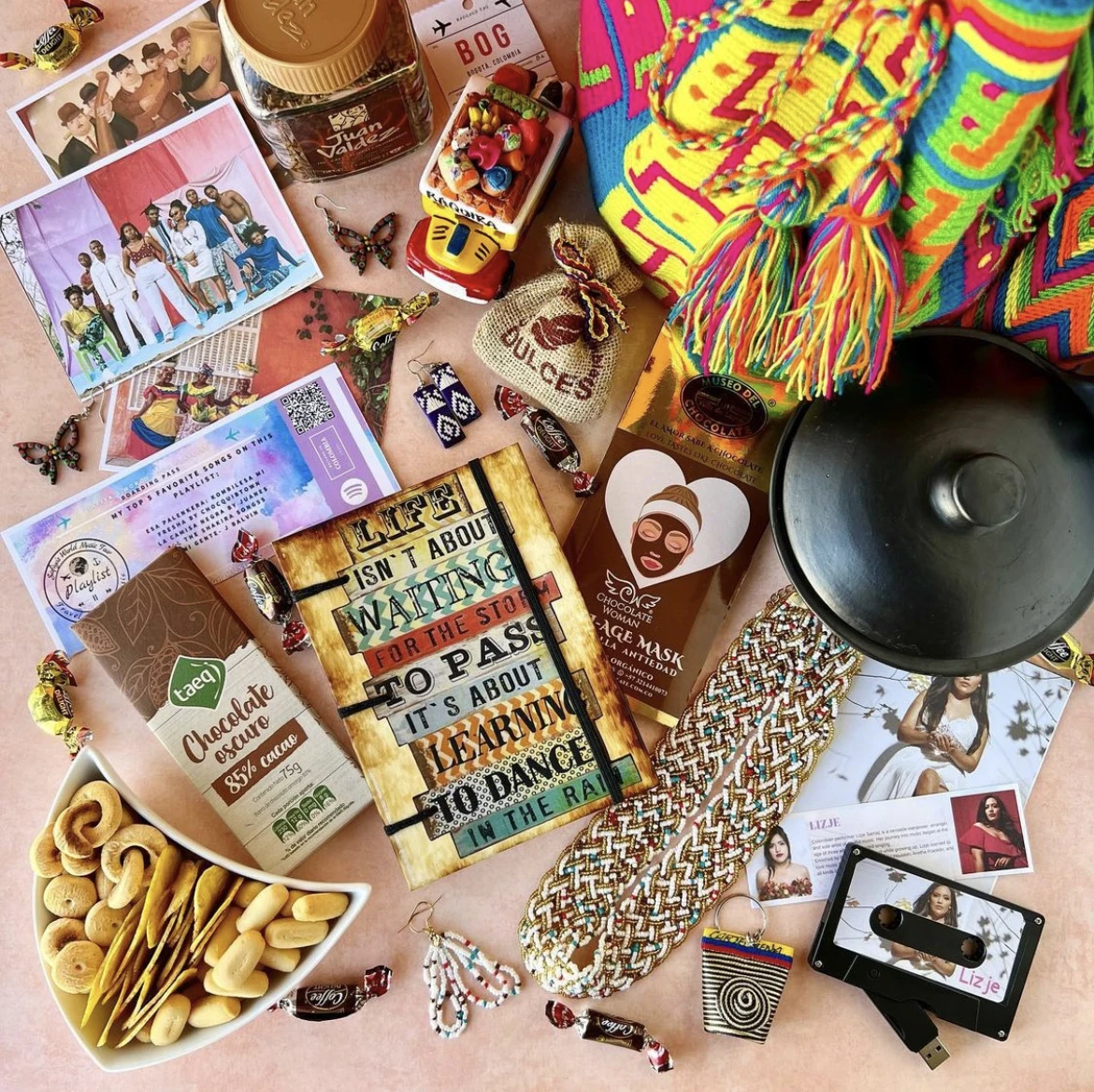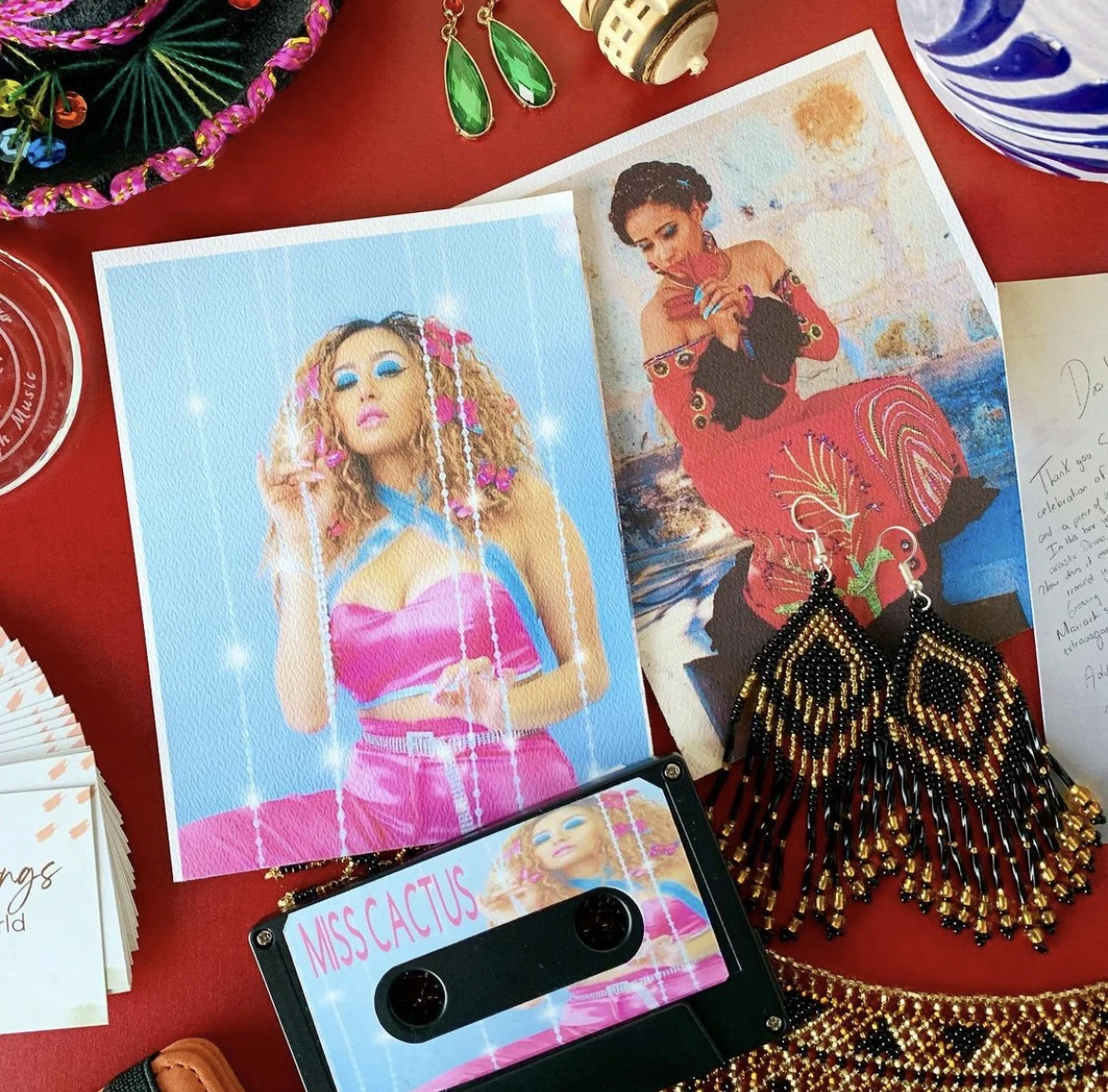 Check Out Maui_Noël's Most Recent Unboxing!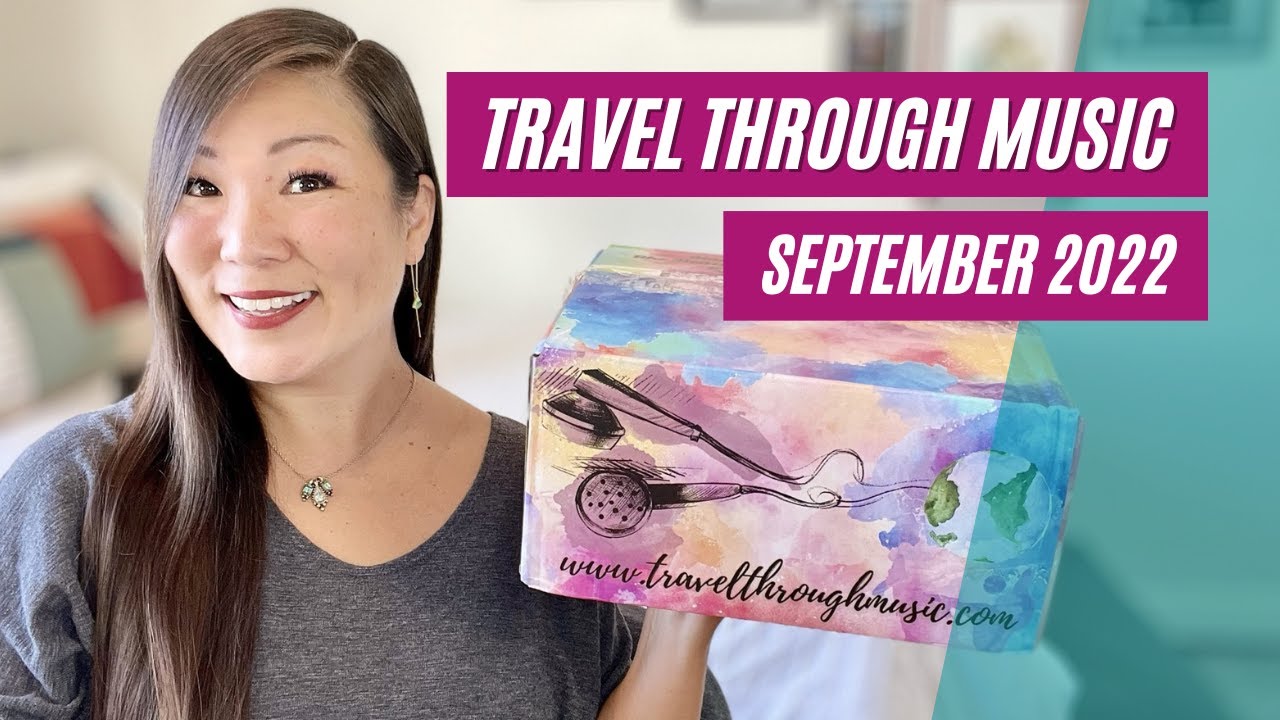 What Our Travelers Have To Say....
/** * @var $module \Ucraft\Module */ ?>
Karla S.

This box is unlike any other box out there. I have a little bit of an obsession going on with box subscriptions but this one hit home and warmed my heart from the moment I opened the box. It wasn't just a box full of stuff - it was an experience! It felt like Safiya customized this box specifically for me. There was a personalized note, a boarding pass with my name on it to China, a baggage tag, and a boarding pass to my next destination - I felt like I was actually going on vacation! The first thing I did was to scan my pass and put the Spotify playlist. Through Safiya's World Music Tour you can expect to feel like a VIP and to experience a piece of the culture from that country through music and goodies! Not to mention the zoom performance by the featured artist! I cannot wait to visit the next destinations!

Jenny L.

I got the Welcome to China box as a gift for myself. The overall aesthetic of the box is amazing and beautiful. All the items in the box give me a cultural experience of the country. Thank you Safiya for your hard work and spreading the love of music. I love it.

Vanessa G.

Treat yourself!

If you want a unique experience, treat yourself to this box! The box comes alive with the live experiences. And I'm not sure how Safiya gets so much in the box, but it's AWESOME!

Greer M.

Cheers to this box I really love what I got and heard the artist's voice is amazing, if you love to travel and miss live shows this box is for you. The opportunity to meet talented new artists from all over the world learning the cultures is indeed a pleasant discovery. I even got coupons in my box and a booklet with a lot of information on the artist's homeland. I am dancing! Cannot wait to order for months to come!

Danielle M.

My Daughter and I loved watching the Kenya unboxing by Noel on YouTube!!! So I surprised her by getting a subscription and am so glad we did. Madagascar was so neat to learn about and the music by Niu Raza was beautiful! We loved receiving each item especially the beautiful jewelry set with stones from the country, and a baobab tree bonsai set we are so excited to try to grow! Thank you so much for the personal touch Safiya!!

Tiffaney G.

WOW!

This is a fantastic box. We were overwhelmed with how many things Safiya curated for this special box! It will be fun to watch the artist and listen to the music as a family!

Hawraa K.

Simply Amazing!

I have received my first box & OH MY GOD. I was so impressed. The first thing to notice that the extra outer packaging for extra protection. Next, the box was heavy & when opened it was full to top with amazing goodies. I was amazed at how well it was packed. Also, it arrived in a pretty short time compared to my other subscriptions. I can say that it is one of the best boxes I have received & it is worth all the money I spent. Defiantly will keep this subscription & will be waiting for my future boxes.

Maria B.

Great Virtual Trip to HK!

What an amazing virtual trip through Hong Kong and China! The gift box, Blythe Schulte's music, and the zoom meeting discussing the culture felt like I was there! Thank you for your careful thoughtfulness and attention to the details. Well done Safiya!

Julia A.

A Magnificent Sensory Experience

Safiya's World Music Tour Playlist: Suitcase Box

Oh my goodness - I am floored. The box arrived - I was greeted with elegant tissue wraps, wax-sealed envelopes, wondrous charming items related to the month's travel theme (China), a booklet with fun information, pictures, QR codes for informative and fun videos on YouTube... a ticket for a live zoom event that was entirely engaging, entertaining, and transcendent with joy and creativity. The box alone was gorgeously printed with watercolor. I have to say, I just wasn't prepared for the experience... I was overwhelmed by the beauty and care of it all.

Tia T.

Love it!!!

Great product! Love that the box includes really helpful and informative travel information... perfect for when we can all travel again! I personally loved how personable the box feels with artist collaboration as many subscription boxes feel purely commercial. Products were great and fun for anyone who is interested in discovering different cultures through means of music, cute products, and many more.

Denise S.

Fabulous travel!

This is a fabulous, unique travel box incorporating music and culture from exotic destinations. Very well done, Safiya!!!

Cris C.

One of my favorite boxes!

My first box was the Madagascar experience and it was so well done! I get a lot of subscription boxes and this is by far one of my favorites. The products are very thoughtfully chosen to represent the destination country and the box is jam packed! Safiya also puts a great deal of personal attention to the little details: a wax seal, personalized boarding passes, and a travel booklet with tons of information about the country. The most unique part is a live experience with the featured artist who performs many of their songs for the group. It's a wonderful cultural and musical experience!

Sue M.

Best box ever!

If you love traveling and music, then YOU NEED THIS BOX! I can't say enough good things about it. It is so much more than "just" a subscription box, it is a whole experience. It is so carefully curated with so many details, I keep finding new things. From the recipes, to the QR code links, to the live zoom performance by the featured artist to the thoughtful items in the box, this is by far the best box I've ever received. I can't wait for the next one! If you miss live music and traveling, you must get the box!

TRACY M.

BEST UNBOXING EVER-WITH A SOUNDTRACK!

I am absolutely stunned and amazed by the awesomeness of this box. As a music and travel lover, as well as a subscription box junkie, this is the coolest box I've ever seen, heard, felt, tasted, and smelled. The founder is creative and lovely. Each piece or experience is better than the last, and the last one was fantastic, too. I know I'm gushing, but I can't recommend this box enough, you will be thrilled!

Tracy V.

BEST UNBOXING EVER-WITH A SOUNDTRACK!

I am absolutely stunned and amazed by the awesomeness of this box. As a music and travel lover, as well as a subscription box junkie, this is the coolest box I've ever seen, heard, felt, tasted, and smelled. The founder is creative and lovely. Each piece or experience is better than the last, and the last one was fantastic, too. I know I'm gushing, but I can't recommend this box enough, you will be thrilled!

Demi R.

Travel In A Box

This was my first subscription box ever and was worth ALL the hype!!! From the comfort of my home, I was able to travel to Madagascar, learn about the culture, hear gorgeous music not only by the featured artists, but others, and just immerse myself in the beauty of it all! The only time I received something so personalized and detailed in the mail, is when I get care packages from my mom😂 COVID may have presented us with a lot of restrictions, but for a moment I felt free while going through Safiya's box. I long to travel to different countries and until I can physically do that, this is the next best thing😊 You will NOT regret subscribing! What are you waiting for?!😝





Blythe S.

You Need This in Your Life! 💚

WOW! I am superlatively amazed! 😍So beautifully, thoughtfully, and intelligently designed and executed.

Each box comes with a QR code on a personalized boarding pass (just for you) so that you can feel the glory of the destination from wherever you are. I got to experience Kenya without budging from LA, and let me say, it is magical! 🇰🇪

I can't wait to uncover the rest of my travel brochures, attend a zoom concert by Kenyan artist Eduardo Omondi, find a home for my soapstone zebra (Kenny,) learn some Swahili, try on my new handmade earrings by @josina.supplies, and more! 🦓

I even received travel supplies for when I can visit Kenya for real! And thanks to Safiya, I'll be prepared to enjoy. 😃