Ladies and gentlemen, music aficio
nados and culture enthusiasts
, it is with great pleasure that we welcome you to our Travel Through Music blog! Today, we are excited to feature Angie Assal, the founder of Sound of Mazzika, who was also a featured vendor in our Palestine subscription box! Angie is a Lebanese-American multimedia artist and dancer who has combined her passion for Arab percussion with her visual arts/STEM background to create hand-painted, lightweight jewelry based on Arabic instruments. Her unique and exquisite creations have been worn and enjoyed worldwide, and she takes great pride in familiarizing people with Arab culture and facilitating their interest in Arabic music. As part of our commitment to supporting world musicians and promoting cultural exchange, we were thrilled to showcase Angie's incredible talent and introduce our subscribers to Palestine's rich and vibrant music. Her stunning hand-painted jewelry pieces based on Arabic instruments were a hit among our subscribers, and we couldn't be happier to have had her as part of our Travel Through Music family. So, let's give a round of applause to Angie Assal and Sound of Mazzika for their extraordinary contributions to our Palestine box and for being a shining example of how music can connect people and cultures from all over the world!
We are delighted to have the oppo
rtunity to chat with Angie and get an exclusive insight into her passion for Arab percussion, her unique approach to creating hand-painted jewelry based on Arabic instruments, and her commitment to promoting cultural exchange and supporting world musicians. So, let's tune in and join the conversation as we explore the fascinating world of the Sound of Mazzika!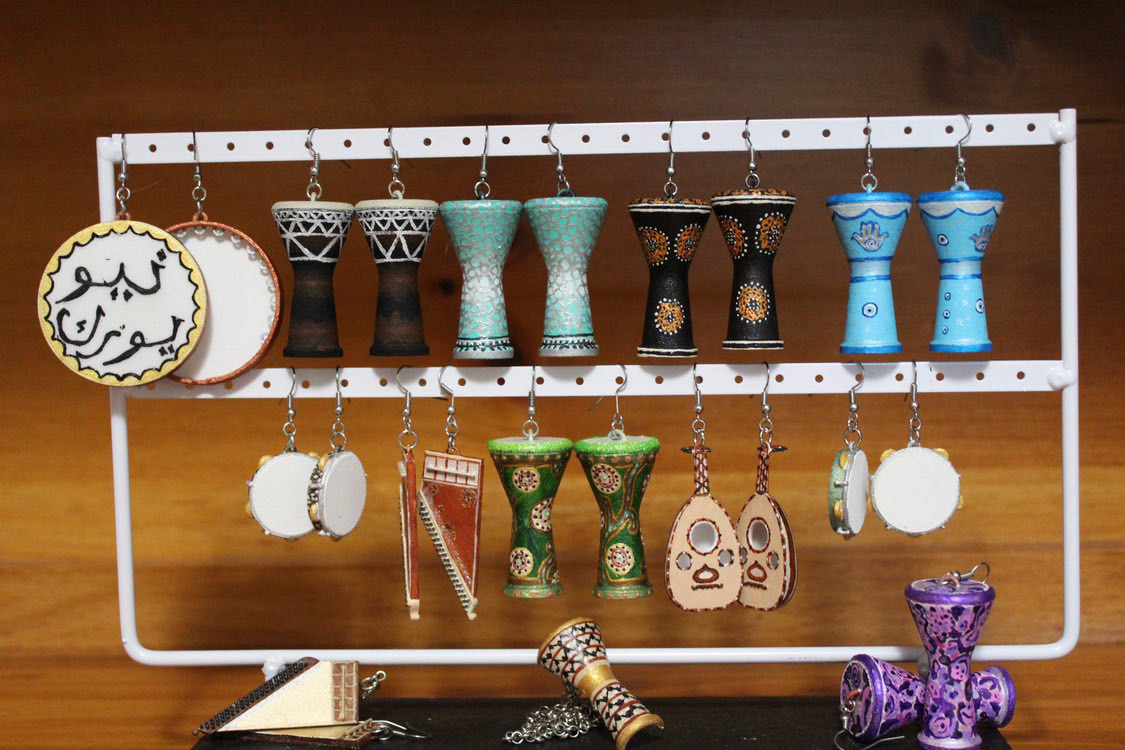 Safiya: What inspired you to create the Sound of Mazzika, and how did you develop the idea of making hand-painted jewelry based on Arabic instruments?
Angie: The original concept of Sound of Mazzika came to be when I started learning Arabic percussion. I was learning to play darbuka with Nezih Antakli, and as someone who's always loved novelty jewelry, I decided to look for a pair of drum earrings online. I was genuinely surprised to see they were totally unavailable. I worked in 3D print
manufacturing then, so I figured with a fine arts background like mine - why not make them myself? I had a coworker and dear friend Thomas Brown teach me to 3D model, and I designed, printed, and then painted my first pair. The rest is history.
Safiya: What is your opinion on the role of technology in your creative process, and what do you think about the future of 3D modeling/printing in the arts?
Angie: I fully believe that 3D modeling/printing is the future - for all fields. We see so many incredible, inspiring advancements in the medical field, with prosthetics and even organ tissue being printed with bio-printers. 3D printing has infiltrated and progressed the fashion industry. It can even be applied in culinary contexts and so on. The arts are no different, and I find immense joy in mixing modern technology with traditional, artisanal techniques. 3D modeling allowed me to apply my sculptural background in a digital space, saving so much time prototyping, so I could put my efforts into the painting details. Understanding science and engineering also helps me design things that are durable and comfortable with intent, not by accident. I am a huge advocate of cross-training in fields, so whatever you're doing can be better informed, and it's also healthy for the brain to be well-rounded and maintain neuroplasticity. If people are interested in 3D modeling/printing specifically, they can find me on "Angieneering Academy" on Facebook and join my group.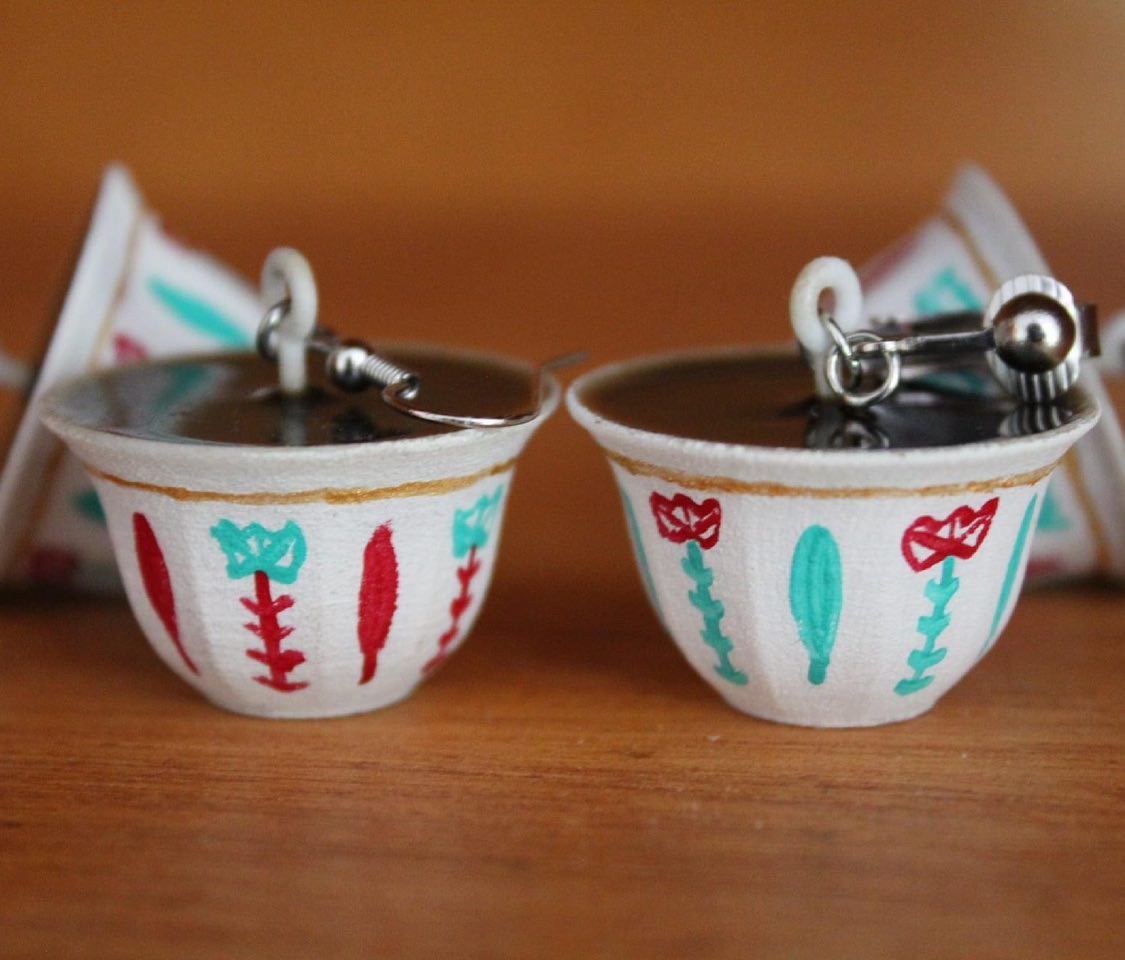 Safiya: What do you hope people take away from your jewelry, and what message do you want to convey through your work?
Angie: I hope people see pride and beauty in our cultural arts from my work, whether they are of SWANA descent and connect to it personally or are of a different background and have an appreciation for our culture and history. Arabic music, dance, poetry, and visual arts are rich, intricate, and historical - our artistic legacy is something to be massively proud of. I celebrate and normalize Arab culture in my designs.
Safiya: Can you tell us about your experience with feedback and reception of your work, especially within the Arab community, and your thoughts on representing and celebrating Arab culture in fashion?
Angie: I've been extremely pleasantly humbled and surprised by the feedback from Arabs and Arab Americans regarding my work. I've had a shocking number of Non-Arabs also compliment what I do and support me, but of course, I created this business with my own community and heritage in mind. It's a way to wear our love on our sleeves - literally.
We have so much to be honored about, and realizing we can feel stylish truly and originally in our own skin is empowering. Lastly, I'm just applying our own normal cultural motifs in clothing - and people realize how aesthetically pleasing it all is, all on its own.
Safiya: What are some of your favorite Arabic instruments, and which have inspired your jewelry designs the most?
Angie: My favorite Arabic instruments are probably riqq (Arab tambourine) and qanun (arab zither). I also love Sagat, finger cymbals that can be played in an ensemble or as someone is dancing. Darbuka holds a special place in my heart because it's what I first started learning and what I first 3D modeled, but riqq and qanun are the most fun for me to play. I learn music with Nezih Antakli, Gilbert Mansour, Firas Zreik, and Suha Deeb (who is also my dance teacher).
Safiya: For our Last Question: What's next for Sound of Mazzika, and how do you see the business evolving?
Angie: Sound of Mazzika is expanding beyond just products and into experiences. I see myself long-term hosting events, creating literature, and possibly even apps and games around Arab music and culture. I am having a Classical Bellydance show with my live quartet, "Sound of Mazzika," on April 29th. I also intend to have employees delegate some of my responsibilities.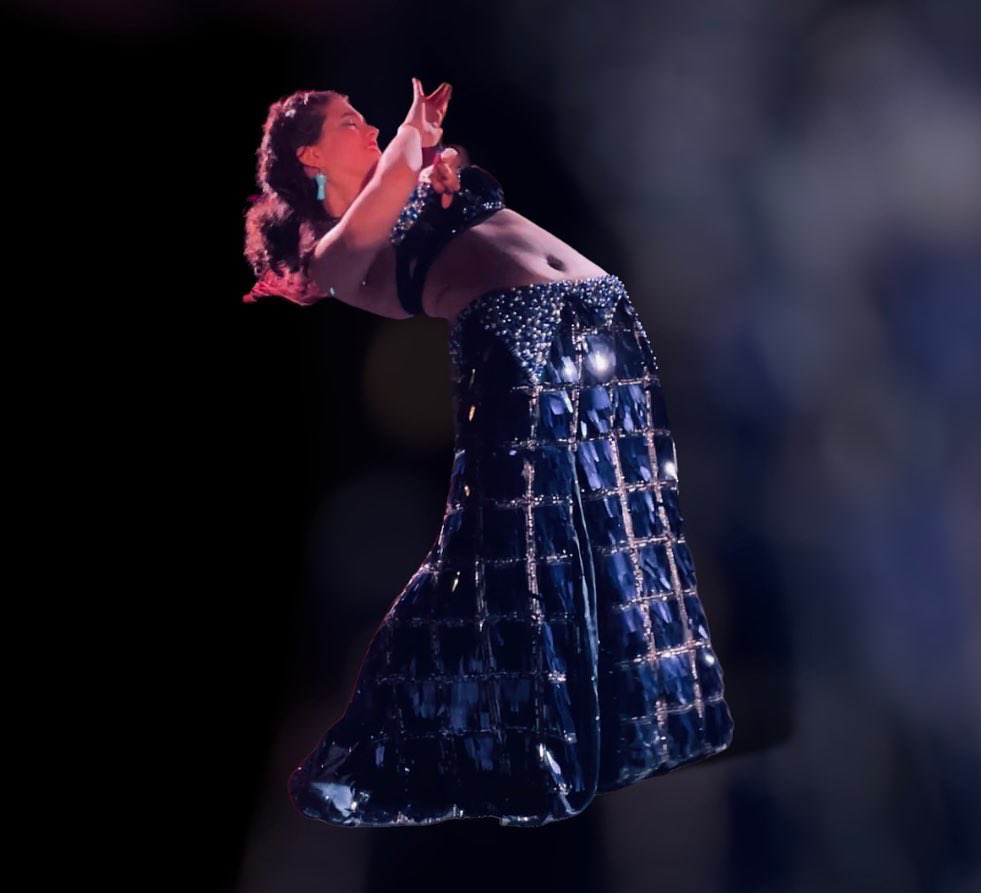 Overall, Angie Assal's work reflects her passion for watercolors and her love for her home country. Her unique style and attention to detail make her pieces stand out, and her commitment to producing high-quality work has earned her a loyal following. We are thrilled to have featured her as our first vendor and hope to continue showcasing more talented artists like her in the future. To our readers, we hope you enjoyed this feature and encourage you to check out Angie's work on her website and social media channels. We can't wait to bring you more inspiring Vendor features in the future!